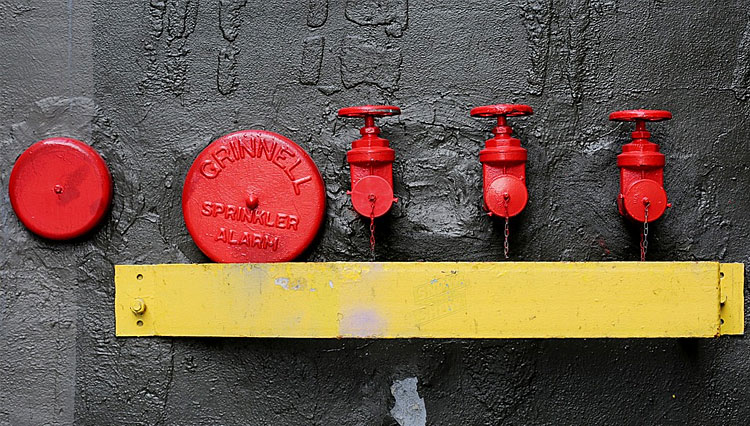 There seems to be confusion throughout the entire Strata industry in Queensland concerning the requirements for testing fire equipment. Many Strata Managers are being told by fire service companies that their Bodies Corporate need to set aside significant money each year for increased testing of fire equipment. Read on to discover the changes to fire regulations Queensland.
So what is the truth?
Regulations 
All buildings, apart from class 1a and 10, must abide by the following regulations:
Building Fire Safety Regulation 2008
MP6.1
Work Health and Safety Regulations 2011 (unless purely residential)
Australian Standard:

 AS1851 – 2012
AS/NSZ2293.2 -1995
AS/NZS2419.1 – 2005
AS2118.1 – 1999
AS2118.4 -2012
AS218.6 – 2012
Changes to Fire Regulations Queensland
In May 2014, MP6.1 changed with an implementation date of 1 July 2014 but with a transition period to 1 January 2015.  Thus by 1 January 2015, the new MP6.1 must be followed.
The major change was to ensure all fire services are maintained in accordance with AS1851 – 2012 except for Fire Resistance Door Sets, (fire doors, fire shutter) and smoke doors where the testing is less than AS1851.
The major change that affects all buildings is the need to identify and inspect passive fire systems, including: penetrations, fire walls and ceilings. This will impact greatly upon all building owners and Strata sites.
Fire Testing Requirements 
The below table of the most common fire protection elements will give you a listing of equipment and the new testing requirements.
Equipment
Testing required per Building Class
5, 6, 9a, 9c
1b, 2, 3, 4, 7, 8, 9b
Emergency lighting
6 Monthly
6 Monthly
Emergency warning and intercommunication systems5
Monthly
Monthly
Exit signs
6 Monthly
6 Monthly
Emergency Management Plan
6 Monthly
6 Monthly – except for class 1b and 2
Fire and Evacuation Plan
Yearly – only for class 1b and 2
Fire detection and alarm systems
Monthly
Monthly
Fire Blankets
6 Monthly
6 Monthly
Fire doorsets
6 Monthly
Yearly
Fire extinguishers
6 Monthly
6 Monthly
Fire hose reels
6 Monthly
6 Monthly
Fire hydrants (including boosters)
6 Monthly
6 Monthly
Fire shutters
6 Monthly
Yearly
Fire Pump Sets
Monthly
Monthly
Lay Flat Hose
Yearly
Yearly

Passive Fire Systems

Fire Walls and Ceilings;
Fire Rated Penetrations and control joints;
Access Panels and Hatches;
Ducts and Dampers;

Yearly
Yearly
Smoke doorsets
6 Monthly
Yearly
Smoke exhaust systems
Monthly
Monthly
Solid core doors
6 Monthly
Yearly
Special automatic fire suppression systems
Monthly
Monthly
Sprinklers
Monthly
Monthly
Stairwell pressurisation systems
Monthly
Monthly
Water Storage Tanks for Fire Protection
Monthly
Monthly
Major Change Affecting You 
The biggest change that is affecting all buildings is the requirement to inspect your Passive Fire Systems such as Walls, ceilings, and penetrations.
To save money you should consider implementing the following.
Obtain copy of construction plans;
Identify all passive fire systems in the building;
Develop a register of all passive fire systems within the building;
Label each item of passive fire within the building;
Contact a fire maintenance contractor to obtain quote to undertake inspection of the passive fire systems within the building based upon your register;
To find out more about the changes to Fire Regulations Queensland and how this might affect your fire management plan, then give QBM a call today!