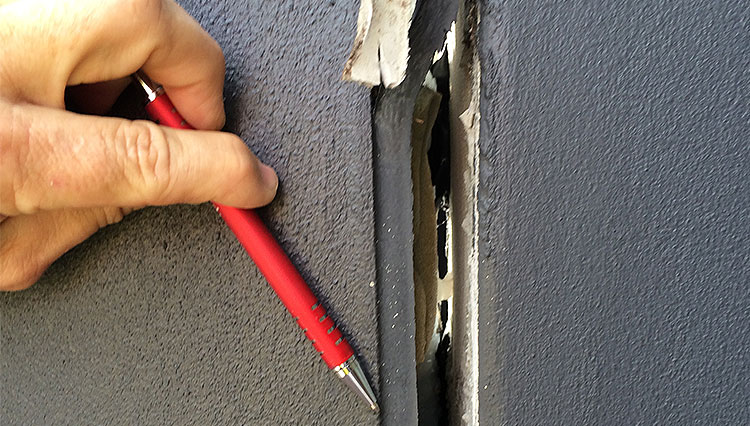 The presentation by various speakers at Strata conferences highlights that Queensland building faults in strata complexes are increasing.
All the items covered by these speakers are accurate and it is in fact true that builders are becoming slack in their construction particularly of Strata complexes. This is most likely due to cost pressures and the need to turn a greater and greater profit margin.
In fact the following photograph will show a masonry wall constructed between units without any footings whatsoever and naturally the walls are coming away from the main building. This complex was constructed by one of Australia's largest builders with construction projects ranging from the small, to very large projects throughout the whole of Australia. This is a typical fault of the builder not having sufficient supervisory staff on site.
The committee representing the unit owners on this complex acted responsibly and 12 months prior to the end of defects period engaged a professional to undertake a condition assessment in order to identify all such building faults.
However in many instances unit owners, and the committees that represent them, do not act so responsibly. In fact many wait until almost the end of the legislated defect period before even considering the need to ask the builder to rectify any faults.
State legislation in Queensland gives specific timeframes to notify the builder of building faults Queensland once these defects have been identified.
State
Time from for Structural defects
Queensland
Before 10/10/2014
Lodge compliant within 3 months of noticing a structural defect that appears within 6 years and 3 months from practical completionAfter 10/10/2014
Lodge compliant as soon as possible but no later than 12 months of noticing a structural defect that appears within 6 years and 3 months from practical completion
Case Study
One such example where the unit owners and committee representing them did not act responsibly follows.
A small complex had some major problems with water leakage through the roof. Following a severe rain event, significant damage to the internal of the units was suffered. The insurance company paid for the repairs. However,the insurance company stated that the body corporate must undertake repairs to ensure that such damage did not occur in the future.
The leaks in the roof had been experienced from almost day one after completion of the construction of this complex. However, the builder had never been contacted formally to undertake repairs or if they had, no legal proceedings or any other legal action was commenced.
And six years and one month after the completion of the complex, a professional company was engaged to undertake a building condition assessment to identify any faults that may be attributed to poor workmanship. Action was then to be taken against the builder for such rectifications.
A report was completed and submitted to Body Corporate. Eventually, the Body Corporate agreed that a claim should be made to the relevant authorities against the workmanship of the builder to have repairs to the roof undertaking. However, by this time it was now six years 2 1/2 months since completion of the construction of the complex, leaving only two weeks for the claim to be submitted and processed.
The claim was submitted; however, the person at the relevant authority handling the claim left for four weeks' holiday and the claim was never actioned. On return of the relevant officer the claim was assessed and rejected on two points:
The claim was submitted in excess of the legislated time frame;
The claim was submitted many years after the Body Corporate unit owners became aware of the fault;
To this day there is bitterness and conflict between unit owners over the whole affair. However, one could argue that it is their own fault that such a result occurred and the builder was not forced to fix the leaking roof, due to their in-action over a period of in excess of six years.
The sad part is though, that the repairs to the roof at the time would've only cost $2,200, the Body Corporate has spent more than that figure in obtaining reports. More importantly, though, they are still suffering anxiety and hurt over the whole affair, when for a small expenditure they could've had the issues rectified immediately upon the identification of the roof leaks.
So it could be argued in this case, the building defects although caused by poor workmanship was a direct result of the in-action of the Body Corporate, owners, and the committee who were elected to represent them.
There is an old saying or question that should have been asked in this instance; "is it better to be right or to be happy". Surely the lot owners would have been happier had the roof been rectified immediately, even though the builder was at fault.
When disputes arise between Bodies Corporate and builders, the committee should remember that saying, and consider not only the legal implications or their rights, but the outcome they are seeking to obtain. In a number of cases, it would be more prudent to consider happiness over being right.
CURRENT STATE OF PLAY
Building faults Queensland are continuing to plague the state's Strata complexes. Last financial year there were 4793 complaints lodged with the QBCC. This is a significant increase from the previous financial year but still less than the number in 2010/2011.
The list of the major causes of structural effects still include waterproofing and roofing, with 493 complaints lodged for these types of defects.
Types of Defects
Defective Building Work
Means building work that is faulty or unsatisfactory, and includes, for example, work that:

Does not comply with the Building Act 1975, Building Code of Australia or an applicable Australian Standard
Involves the use of a manufactured product, and that product has been used, constructed or installed in a way that does not comply with the product manufacturer's instructions.

Non-Structural Defect
 A Defect that is not a Structural Defect

Does not reasonably meet a standard of finish or construction
Caused a settling in period defect

Structural Defect
 Defective building work that is faulty or unsatisfactory because:

Adversely affects structural performance of a building;
Adversely affects the Health and Safety of persons residing in or occupying the building;
Adversely affects the functional use of a building;
Allow water penetration into a building;
The following page from the QBCC Annual report from last year shows that there are still significant issues being faced due to building defects. 
Who can lodge a complaint about building faults Queensland?
The current QBCC legislation states that the following can lodge a complaint.
Property Owners;
Body Corporate representative (for common property only)
Agents acting on behalf of a property owner;
An owner of the property directly next door to where construction work is being carried out;
Building Defects in a Strata Scheme
As mentioned above, the Body Corporate can lodge a complaint, but only for the common property. The individual lot owners must lodge their own complaints about damages inside their lot.
Here is a typical example of a common defect in a Strata Scheme.
The waterproofing to the concrete roof is leaking, resulting in damage to the ceilings in foyers and inside the top floor lots.
Complaints are to be lodged as follows:
| Damage / Defect | Who is responsible to lodge complaint? |
| --- | --- |
| Waterproofing membrane not providing protection from water ingress. | Body Corporate |
| Damage to ceilings of foyers to top floor level. | Body Corporate |
| Damage to ceilings in individual lots to top floor level. | Individual lot owner |
| Damage to carpets in an individual lot from water ingress. | Individual lot owners |
A GUIDE FOR BODIES CORPORATE
Unfortunately in many instances, the internals of lots may experience damage from water ingress either from roof or windows without the lot owner being aware of such damage. This occurs on a regular basis due to rental units having tenants not caring about damage, or owners just not aware that "things that just don't seem right" are in fact major defects.
Sometimes it seems that until mushrooms start growing inside a unit that the issues are taken seriously.
Thus if the lot owner is not aware of the damage occurring, the BC will also be blissfully unaware that the building has serious defects.
As a general rule, Bodies Corporate should follow the inspection schedule and actions listed below. Due to the complexity and the changes that Governments continue to make to the legislation, the tables have been drawn to list all options that are applicable.
Please read the first 3 lines of the tablesto identify where your scheme fits.
Queensland
Building Age:
< 6 years old from completion of construction
Note:

If contract entered into < 10/10/2014 – you must notify of a structural defect within 3 months of noticing the defect, or the warranty may be voided. If contract entered into > 10/10/2014 – you must notify of a structural defect within 12 months of noticing the defect, or the warranty may be voided.

Minor defects are not mentioned here as they must be notified within 12 months of completion. As the developer has control of the BC for the first 12 months, no minor defects will ever be identified.

Actions Required:

1
Add agenda item to AGM if held no later than 5 years and 6 months after completion of construction; or

Hold a Committee meeting no later than 5 years and 6 months after completion of construction

Do any lot owners have any defects within their lots
Gain approval to engage a building professional such as QBM to inspect the complex including the internal of all lots to identify defects

The warranty period for major defects is only 6 years after construction. Time is required to undertake inspections and contact the builder and developer.
 2
Committee to inspect the common areas to see if they notice any obvious major defects
Lot owners and committee members need to have some indication of the level of defects to make funding decisions
 3
Inspection of common areas and the internal of lots to identify all defects both minor and major defects
BC to pay for internal lot inspections as many major defects will only be visible from the internal of lots
 4
Ring the builder and developer to notify them that defects are present on site and that a full listing is being sent. Document these calls
Attempt to engage the builder and developer in a friendly manner to gain their support to rectify the defects without further legal action.
 5
Send list of defects to builder for rectification via registered post to both the developer and the builder.
Need a written record that the listing of defects has been sent and on what date for future legal action if required.
 6
If no advice has been received from both the builder and developer, send the list of defect again with a covering letter demanding rectification of the defects within 14 days via registered post.
Need a written record that attempts have been made to resolve the issues in a consultative manner for future legal action if required.
 7
If no satisfactory advice has been received from both the builder and developer lodge a complaint with QBCC.

Note:
The complaint to QBCC must be submitted by the BC for common areas and by individual lot owners for the internal of their lots.

Action must be taken within the listed time frames.

Note: if the defects result in a lot being uninhabitable or causing major disruptions to lot owners, the Body Corporate must rectify the defects within a timely manner and commence action against the builder for cost recovery.
SUMMARY
The issue of building faults Queensland can be very emotive for lot owners. But if the emotion is taken out and a professional company is engaged to identify defects and liaise with the builder, satisfactory outcomes can be achieved without legal recourse.
QBM has been inspecting buildings for many years and conducting Building Warranty reports for the past 15 years.
We have an enviable record of identifying not only the defects but the causes behind the defects. With such solid evidence, we have achieved great success for Bodies Corporate in having defects rectified by builders.
The "Take Away" from this article is that Lot Owners and Bodies Corporate need to take building defects seriously and don't waste time in the identification of such defects. Strict time frames are in place and failure to notify of defects may void all builder's warranties.
ABOUT QBM 
Quality Building Management (QBM) formed by Donald Pitt, has been an active professional within the Building and Strata Industries since 1970.
QBM have completed Builder's Warranty inspections to numerous Strata complexes, and have been successful in the majority of cases in having the builder return to site for rectifications works.
Specialising in everything to keep Commercial, Industrial and Residential Complexes safe and legally compliant, QBM provides the full range of Asbestos, Fire, and Building inspections, reporting, and training services for Property Owners and Managers, as well as Real Estate Agents.
By doing all the required services and investing in systems and our people, we can confidently give cost-saving guarantees where you will save money.
Call today for more information about QBM!
The information provided in this article is of a general nature only and does not represent nor is it intended to be advice of a personal nature or any particular nature. Quality Building Management Pty Ltd strongly suggests that no person should specifically act upon any information supplied in this article, but should obtain our professional advice concerning your specific issue or personal circumstances.