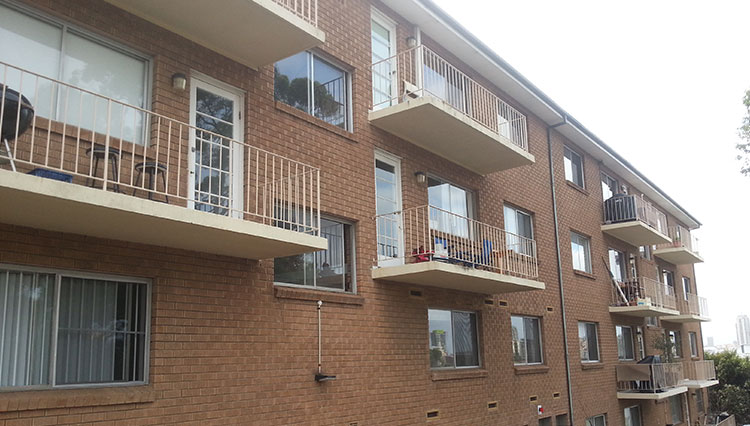 A question has been raised by a number of committees of Strata Managers in recent times concerning the replacement of balustrades.
There seem to be two main questions:
What is involved in the replacement;
Will this add or detract value to the complex;
This article is designed to provide the information for Committees and Strata Managers so informed decisions can be made.
Barriers v's Balustrade
The latest edition of the National Construction Code, previously known as the BCA (Building Code of Australia) now refer to handrails and balustrade as "BARRIERS". This reflects the changing design of buildings where solid walls are now a standard feature along balconies which could not be referred to as being a balustrade.
A contractor's point of view (Written by Tony of Euro Glass & Aluminium Pty Ltd)
Basically speaking there are a few various scenarios of which make up the issues we face being involved with the remedial side of things. The majority of balcony areas are made up of cantilevered concrete slab construction and in the vast majority of cases they, in their day, applied wrought iron railings that did comply with building codes for that particular era.
Today the wrought iron that they once installed is creating plenty of work in that the iron railings naturally end up containing rust issues of which eventually lead to worse conditions if unattended. In most cases, the concrete cancer evolves from, but is not limited to, poor quality workmanship that left steel mesh within slabs to close to the outer layer of concrete,
To erase this issue now and for all time, the existing rails are removed leaving behind the small posts portions of the balustrade itself. Attention is drawn to this scenario as it is extremely important to stop the issues behind concrete spalling. As this leads to in most cases, and especially the corner (90 degree) portions of concrete slabs to crack and eventually fall away resulting is a serious OHS issue.
Once the extraction has taken place, we carefully mix an epoxy grout and pour this within the hole to bring this up to a FFL (Finished Floor Level) The epoxy grout in most cases when dry, actually sustains itself to be much stronger than most concrete MPA strengths.
In many cases we find also that wrought iron posts spacing are extremely large as we try to achieve best practice for our clients, trying to refrain from having to drill holes within slabs for no particular reason and try to place our new balustrade posts within the same holes drilled from the original extradition process. But as I say, this can only come down to a spot of luck as most buildings do need the extra holes as we can't span our new balustrade posts spacing like the originals, otherwise regretfully we won't comply to today's common practices and Building Codes of Australia.
We seem to also come across many buildings that have the foothold situation where this is as the law states: "any foothold more than 10mm wide that is located between approx 150 and 760mm" that would create a climbing scenario acting in most cases as a balustrade that also once complied to standards many years ago. But doesn't comply today. Meaning that the only options are that the balustrade be manufactured to be side fixed and be bought up to today's codes of practice maintaining that minimal height of 1000mm (1m).
Alternatively engage a remedial builder to carefully demolish the brickwork bringing it down to slab level so that a full height custom made balustrade can be manufactured to suit the application.
There are many from within our Metal Industry whom choose to do things in halves and don't obtain a License for a start, not only with the materials they purchase but in their capabilities or should I say lack of "attention to detail", that they arrive on site with the lack of pure knowledge and honesty that is somewhat something of the past but still existent.
As we all know, everything revolves around money. This is where it takes a twist. It's a simple case of spending the money wisely and getting the job done once, meaning no more further headaches and organising etc. OR go the other way and THINK that your saving money but only to find out a couple of years down the track that the powder coating is flaking off and things falling apart. Meaning that the job will need to be replaced causing frustration and everything that goes along with trying to organise the whole scenario once again.
The initial amount of money spent means nothing when you have an issue like this. We cater for many complex's that are located across our coastline knowing that they are prone to certain elements that need to be looked into and advised.
Quality of Glass (Written by Gavin Owens of Techno Glass Designs Pty Ltd)
In the many years I have spent selling hardware, supervising and installing pool fences and balustrades. I have come to realise that there is an ever decreasing quality of fittings and installation and an ever increasing number of cases where the end result is questionable to say the least.
We have heard from A Current Affair recently who feel that it is their duty to enflame the debate over imported glass on an annual basis, without offering any real solutions to the problem. There were comments from individuals who were alarmed by glass fragmenting throughout the process of their installation and in some cases soon after the fact. We are now surrounded by large hardware conglomerates who are encouraging Mr and Mrs Jones to come and "have a crack" themselves at installing their frameless glass pool fences or balustrades and shower screens.
So it is quite reasonable to expect that the number of occurrences of panel breakages and non-compliant installations are growing on a daily basis.
Both pool fencing and balustrade are deemed as "safety barriers" and if ever they were to fail, are at risk of causing permanent injury or death. Reputable glass merchants and glaziers have always known this and take the necessary precautions to address all the relative standards and to apply levels of finesse that are required when installing frameless toughened glass to ensure that the job is secure and safe for all to use, for the life of the installation. They will also go ahead once the installation is completed and certify to say that this is so.
There are divisions which have been created within glass companies that concentrate only on frameless glass installations and are staffed by the best workers these companies have, as they recognize the demanding nature of this type of work. Frameless toughened glass was always check measured on site and manufactured to suit the specific needs of every job, and almost always had penetrations through the glass to bolt the fittings through.
Nowadays to accommodate users with lower levels of ability we are surrounded with glass without holes and hardware that clamps to the glass rather than bolts through. This gives some room for movement and if your skills with a tape measure are a bit lacking or you managed to core drill a hole in the wrong spot because your marking out skills are also challenged…cheap fittings and glass are being sold at a quarter of their previous values to try to meet the budgets of those who can't afford to pay for the real thing.
So what do we have now a market flooded with do it your-selfers with half a clue, selling and buying frameless glass and hardware for some of the most demanding inclusions within a building or a renovation at a fraction of what the real fittings or structure is worth. A growing number of concerns and complaints about the quality of glass and hardware that's available and a never ending flow of questions and concerns from unqualified end users to inexperienced suppliers with questions about installations they shouldn't be carrying out.
On top of all of this, reputable long standing companies being told they are way too expensive and struggling to join the race to the bottom. Weighed down by enquires from half-finished jobs and from end users who have purchased cheap glass and hardware and need to find an installer and or get their job certified.
For the past 100 years or more the old saying goes "you get what you pay for" please consider this attitude when you are making your decision based on the above mentioned scenario.
Seeing that we are on the subject of frameless glass balustrades, I may just take this opportunity to make mention that frameless glass may not suit every Strata related building aesthetically, especially to those that have no intention of rendering the external brickwork…face brick buildings usually may have either the fully framed glass balustrade design or possibly our vertical bar design that more than likely will suit just about every building facade & obviously lighter on your pockets.
Where will it end? Do it yourself plumbing, wire up your own home, DIY gas lines, fly yourself holidays, build your own bridges and pipelines?
The Solution; Please support your local glazing company who employ highly skilled glaziers and tradesmen with the necessary qualifications, experience and references.
And…please don't go shopping on a budget for upmarket inclusions that you can't afford and then attempt to install it yourself. Frameless Glass deserves the right amount of money to be spent on it in order for it to be safe and durable and needs to be installed by reputable installers whose concerns go far deeper than how nice this will look in your home or how much it will positively impact on your resale value.
Frameless Glass is a beautiful thing. However, it can become ugly very quickly when it's not treated with the levels of respect it deserves.
Increase in Value
The question now after the committee understands what is involved in barrier replacement, is whether such replacement will actually be economically feasible.
This question was raised with Chris Beattie of Crane & Company Valuers Pty Ltd.
Specifically, Chris was asked: – if a Strata complex with old vertical aluminium barriers to balconies, were to replace these with frameless glass barriers, would the value of the complex increase or decrease?
And the answer was?
The value would not decrease;
The value may only increase to the cost of the new barriers;
However, there would be other issues for the committee to consider that may make the replacement more beneficial.
The complex will have an increase in aesthetic appeal;
The units may be easier to sell and rent due the complex being visually more appealing;
The units have a better unobstructed view;
Summary
There may be other issues that make barrier replacement a consideration for the Strata, such as the safety of the existing barriers that will greatly impact the decision making process.
The committee needs to be aware of their intentions for considering barrier replacement. If it is to increase the value of the complex, then this may not be the best use of funds. However, if it is to increase the aesthetic appeal and make the lots easier to sell or rent, then such measures may be worth the expenditure.
Following articles will cover the safety and other aspects of barriers that Strata complexes should be aware of.
To find out more about QBM and the process that is involved in safety management reporting call our friendly team today!