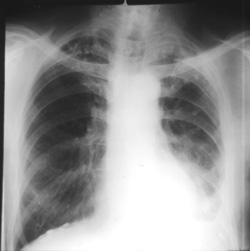 Asbestos dust causes disease, it's a proven fact. In order to fully diagnose the effects of asbestos, a complete physical is highly recommended, including chest X-rays, for anyone who has been exposed to asbestos.   The many forms of this mineral create a toxic, often invisible dust when disturbed, which can remain suspended in air for long periods. Inhaling microscopic asbestos particles allows the toxin to become trapped in the lungs and pleura. Pleura is the name given to tissue lining the stomach and chest cavity. The needle-like fibers of asbestos penetrate deep into body tissue and over a period of 10 to 40 years; can cause fatal diseases to develop.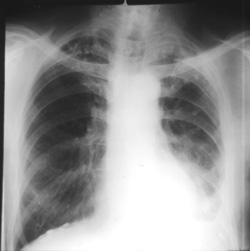 Chest X Ray
Severity of the disease depends on the length of exposure and concentration of asbestos inhaled, as well as frequency of exposure and type of asbestos involved. Amphibole asbestos is thought to be more damaging than serpentine, as short needle- like fibres can travel further into the lungs and are more difficult to expel.
In the 20th century, asbestos miners and factory workers spent decades working in environments thick with dust from chrysotile, amosite and crocidolite. People living near asbestos mines and factories have contracted asbestos related diseases. Today, scientists know that the effects of asbestos, even short exposures to airborne asbestos, may cause disease many years later. No concentration of asbestos is considered safe or guaranteed not to cause disease; that said, there is an accepted standard of exposure for those who work with asbestos: 0.1 fibre/cc/8-hour period.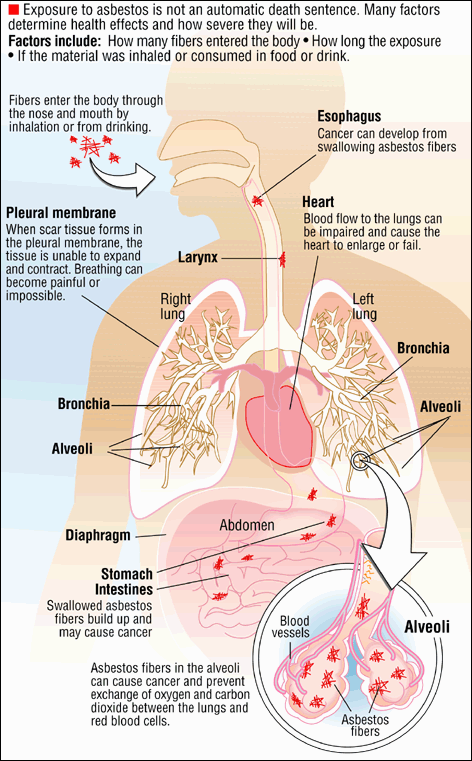 Diseases of Asbestos

Chronic exposure to asbestos dust results in asbestosis, pleural plaques, lung cancer and mesothelioma. Patients diagnosed with these diseases may complain of shortness of breath and excruciating pain with breathing. Let's look at each of these ailments and explore the symptoms, risks and expected outcomes.
Asbestosis – Asbestosis was unheard of before the asbestos boom of the 20th century. While not a cancer, asbestosis is a long-term, incurable illness compromising normal lung function, and is sometimes fatal. Mesothelioma may develop in patients suffering from asbestosis. When asbestos fibres are inhaled, lung tissue becomes infected. The body responds by fighting the inflammation. Another effect of asbestos is that scar tissue forms, reducing lung capacity.
Latency period for asbestosis may be as long as 20 years. This is the amount of time between exposure and diagnosis. Symptoms are different from patient to patient; one afflicted person may die after fighting the disease for years, while another notices no discomfort. Typical symptoms include shortness of breath, persistent cough, chest pain and loss of appetite. Smoking is known to increase severity of this disease. Oxygen may be prescribed as breathing becomes more difficult for the patient. Anti-inflammatory medications are also recommended. As the body tires from fighting asbestosis, the disease can become fatal with the lungs and heart stressed beyond their capacity. Staying away from asbestos is the most effective way to avoid contracting asbestosis.
| | |
| --- | --- |
| | Pleural Plaque, Pleural Thickening – The scar tissue formed as a result of breathing asbestos dust is known as pleural plaque (localised) or pleural thickening (dispersed).  CT scan or ultrasound are used to detect pleural disorders, considered benign if less that 1 centimetre thick. Monitor pleural disorders if thickening increases or lung function deteriorates, as mesothelioma is a pleural disease. |
| | |
| --- | --- |
| | Mesothelioma – This rare form of cancer occurs in the mesothelium, which is tissue lining the chest and stomach. Mesothelioma has become more common in workers exposed to asbestos about 30 years before they are diagnosed with the effects of asbestos. Due to this long latency period, recovery is unexpected. Patients suffering from mesothelioma experience severe chest or abdominal pain, localised swelling, difficulty breathing, and weight loss. There is no known treatment for mesothelioma, other than powerful pain medication and oxygen to ease troubled breathing. Smoking increases the risk of mesothelioma. |
| | |
| --- | --- |
| | Lung Cancer – Smokers who have a history of asbestos exposure increase their chance of acquiring lung cancer ten-fold. Cancerous tumors grow in the lungs decreasing lung function and impairing breathing. Lung cancer patients experience difficulty breathing, continuous chest pain, coughing, and reduced iron in the blood, or  anaemia. Latency period for lung cancer in these patients is about 15 to 20 years from their first asbestos exposure. |

DEADLY STATISTICS
701 people diagnosed with mesothelioma each year in Australia since 2011

From 1982 – 2019, the number of new cases of mesothelioma rose from 135 to 532 for males and 22 to 127 for females in Australia

659 new cases of mesothelioma in Australia in 2019
Next to the United Kingdom, Australia has the highest rate of asbestos-related cancer deaths in the world.
According to cancer experts, an additional 25,000 Australians are expected to die over the next four decades from mesothelioma
In 2007, 551 Australians who registered that year died of mesothelioma. Eighty-four percent of those individuals were men.
Experts suggest that the number of deaths from mesothelioma will peak somewhere between 2014 and 2021
Incidence of the disease in New South Wales nearly doubled in the 20 years between 1987 and 2006.
The rate among females in New South Wales tripled during 1987 and 2006, with many cases attributed to second-hand
Over the period 1982 to 2006, the total number of new cases of mesothelioma increased from 156 to 649
From 1997 the number of deaths has increased from 416 to 628 in 2006
There was a 25% increase in accepted asbestos claims from 2003 to 2008
Deaths from Asbestosis increased 253% from 1998 to 2008
About 125 million people in the world are exposed to asbestos in their workplace
WHO estimates that 107,00 people die each year from asbestos related lung diseases
References:
Safe Work Australia August 2010
Asbestos.com
World Health Organisation July 2010
Australian Institute of Health and Welfare 2020
Safe Work Australia
Contact Quality Building Management today to have your complex assessed for deadly asbestos and comply with your legal obligations. (click to open contact form)
To find out more about the effects of asbestos, contact the friendly team at QBM today!