Why should I have a Building Inspection?
We all become blind to what we see every day. Having QBM, independent expert inspect the property will provide an building inspection that is guaranteed to identify all faults and issues.
A recent survey of a unit complex identified major structural problems with structural support posts to the stairs, landings and balconies. The steel supporting posts were rusted completed through in many areas meaning that the concrete stairs were self supporting and unstable.
The repair build will be in excess of $100,000.
Had a building inspection been conducted regularly over the previous years, then the rusting to the steel support posts would have been identified and remedial actions proposed to treat the rust before it became a structural fault. The saving of many thousands of dollars would have resulted.
By having a building inspection today, QBM will identify the often missed and neglected small issues that need to be treated to ensure they do not deteriorate into structural faults, as well as the major faults that are readily identifiable.
What are some of the issues identified?
The issues identified in a building inspection can be grouped into two categories, Maintenance items and Structural faults.
However many of the maintenance items, if not treated can quickly deteriorate into structural faults.
The most common issue identified is cracking to building walls and ceilings.
In many instances these cracks are superficial and pose no structural threat but are unsightly. However classifying the cracks into the different categories is where the QBM team of experts are relied upon by many Strata and Body Corporate Managers.
The second most common issue identified is rusting. Generally any rust is a deterioration of the structural building element and requires immediate and regular treatment to stop the spread and further deterioration.
However there are some instances where rust marks in concrete structures are not structural in nature.
Unfortunately some builders are careless in their cleaning of formwork prior to pouring concrete. This will result in small pieces of "tie wire" used to tie together steel reinforcing left on the formwork. When the concrete is poured, these small pieces are left of the exposed surfaces and rust in a short time. These are mostly cosmetic in nature but are very costly to remove.
However, other rust showing in concrete structures could be the rusting of the structural steel reinforcing. Referred to as "concrete cancer" this rusting is a serious structural defect and requires immediate action. Without early intervention, small repairs jobs costing hundreds of dollars quickly turn into major repairs costing many tens of thousands of dollars.
Protect your investment and engage a building expert to conduct regular building inspections.
Is your building falling apart faster than it should?
The average Sinking Fund does not pick up maintenance issues!
A dedicated Maintenance Inspection and Report is required to identify a fault costing $200 to fix today, before they turn into major issues costing $'000 and effecting its building integrity.


4 year ago, this was a $40 job to fix the leaking downpipe. Now the steel post has rusted through and must be replaced at a cost of the rusting problems with this handrail should have been identified years ago and repaired for minimal cost. Now the rust has eaten through the steel and the entire railing needs to be replaced.
Timber decks make and ideal entertaining area. But can be a maintenance nightmare as well a serious safety hazard. Regular maintenance inspections are a must.
What are the risks?
Balcony collapse
Serious injury or death
Large replacement costs
What to look for?
Loose nails
Rotten timber framing
Termite damage
Don't let it get to this stage. QBM would have identified this at an early stage.


QBM's Maintenance Inspection and report covers:
All common areas of the complex.
Building exterior
Fences and gates
Internal stairs
Lobbies
Fire escapes
Amenities
Recreation areas
Swimming pools and spas
BBQ areas
Tennis Courts
Car parking areas
Basements
Driveways and paths
Retaining walls
Stairs and handrails
Having contractors perform maintenance on your property?
Have QBM inspect the quality and certify the work before you pay.
Most people let little maintenance items slide as they don't think it is worth repairing now or do not want to spend any money.
This is where QBM comes into their own, inspecting properties from a builder's point of view. Identifying the small issues while the faults are small and relatively in expensive to rectify.
It has been our experience that a majority of reports are issued without either anyone having visited the site or a non-qualified person carried out the inspection and hence missing details such as, the starting of rust and concrete cancer, the beginnings of dry rot, loose tiles. Hence within a couple of years these can turn into major and expensive building faults.
QBM is fully licensed and insured as should any service provider you contract work to.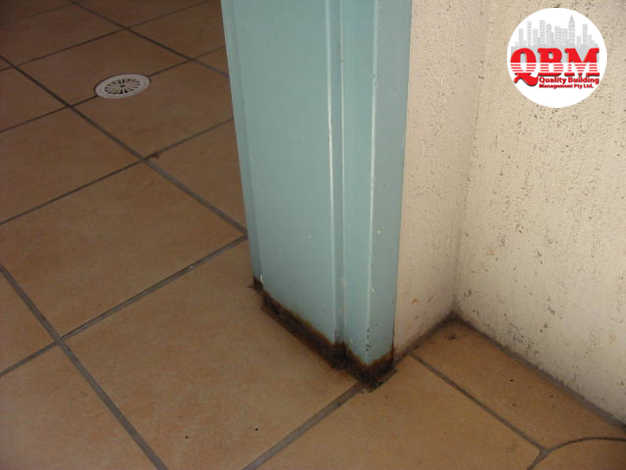 Metal door frames are a major concern due to their tendency to rust. Replacement is a costly exercise. These can be patched and treated at minimal costs if identified early. A maintenance inspection will identify these issues and make recommendations for repairs.
Contact Quality Building Management today to organise your Building Inspection and ensure your complex is a safe place to live and work, and to meet your legal obligations.